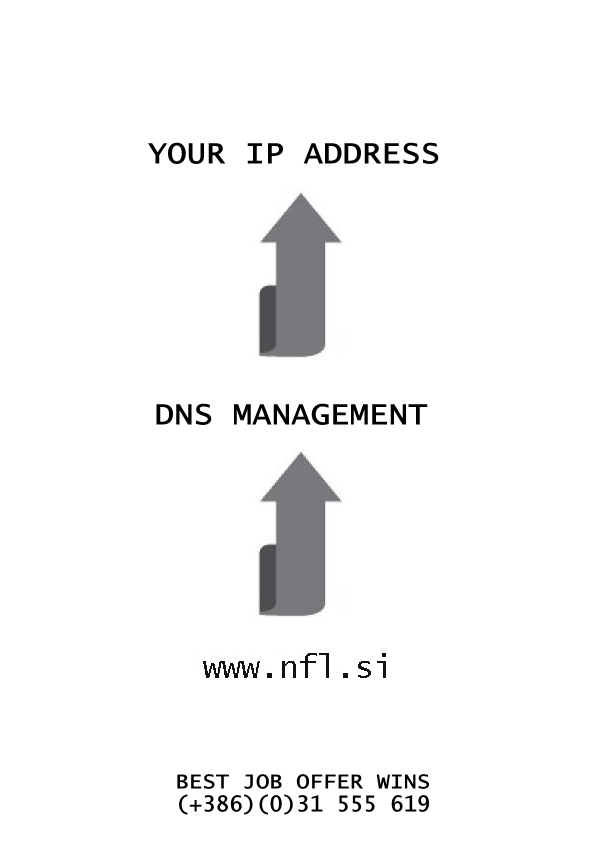 DO YOU LOVE NFL?
REALLY LOVE IT?
NOW YOU CAN SHOW THE WORLD HOW MUCH, BY TAKING CONTROL OF THIS UNFORGETTABLE DOMAIN FOR AS LONG AS YOU CHOOSE.

TERMS OF THE OFFER:

IT IS AN ACTUAL JOB IN WHICH YOU EMPLOY ME TO POINT IT AT YOUR DNS.

I CANNOT BE A COMPANY BECAUSE IT IS DE FACTO ILLEGAL FOR A FOREIGNER TO MAKE MONEY IN SLOVENIA. SEE HERE.
IT CAN BE ANYWHERE IN THE WORLD
AS LONG AS I DON'T HAVE TO GO THERE.

PUT ANYTHING LEGAL ON THE SITE - I WON'T INTERFERE, COUNT OR ANALYSE YOUR VISITORS BECAUSE I DON'T CARE.

BUT YOU CANNOT, FOR INSTANCE, REPRESENT YOURSELF AS THE NFL...UNLESS YOU ARE THE NFL.

OK I THINK THAT'S IT...
AFTER USING YOUR COORDINATION AND TEAMWORK TO DECIDE WHO THE BIGGEST NFL FAN IS, CALL WITH YOUR JOB OFFER AS SOON AS YOU'RE READY.
OR IF YOU DON'T SEE YOUR FUTURE AS MY EMPLOYER...
CONTINUE TO THE STUFF ABOUT HAVING YOUR INTELLIGENCE REDUCED BY DUMB PEOPLE WORKING IN GOVERNMENT OFFICES WHO HAVE BEEN TOLD YOU ARE WATER OR AN AREA, WHICH TELLING YOU ABOUT DOESN'T PAY AT ALL - AND WHICH WILL EVENTUALLY DISAPPEAR FROM THIS SOURCE IF I DON'T GET ANY MONEY.
(OR DO BOTH).