I used this form to encourage Lincoln City Council to make more of a show of their specially fluoridated public toilets.
Each unit can deliver up to 6 milligrams of fluoride directly into the sewage system with each flush.
In this golden anniversary year of Lincoln City Council's historic 1968 toilet-fluoridating vote please add your own emotional call for the recognition the Council so richly deserves.

Re: All Lincoln City Toilets
Although you are only paid to sit there until it is time to go home and would risk dismissal if found engaging empathetically or in any human fashion at all with the public, I would like you to know that this web page is not doing enough to promote the benefits of fluoridated toilets.
As Lincoln City Councillors

Frederick Thomas Allen
Robert Gordon Bracey
Sidney Alfred Campbell
Frank Roy Eccleshare
David John Fowler
Francis Edward Henry Horn
Richard Derek Horner
Charles Ireland
Bernard Harry Kendall
Richard Murfin Lucas
Adelaide Joyce Naftalin
Wilfred Pixsley
Richard John Read
Eric Jordan Richardson
Cecil Percy Robinson
Peter Roe
John Greenfield Ruddock
Mary Robena Sookias
Alfred Herbert Taylor
Sheila Joan Townend

...have gone to the trouble of ensuring city loos do not face a fluoride deficiency, by voting to increase about 40-fold the original fluoride content of Elkesley's supply.

It is almost as if the authority is trying to conceal its involvement, play it all off to privatised/successor authorities, when we all know that these on-off optimally or thereabouts fluoridated toilets would not even be a possibility in Lincoln without these ladies' and gentlemen's obvious deep wisdom and careful forethought about fluoridating everything.

In their long battle to fluoridate these toilets their brave dismissal of the Law of Halogen Displacement and the Nuremberg Code deserve special mention. Surely commemorative plaques are in order, two or three per facility to ensure each receives equal appreciation.

As you have been receiving their treatment on and off since 1970 or whenever you were conceived or moved into the area and rely on Trinity Mirror or the BBC for your facts, you probably have no idea what happened. Your knowledge of what fluoride is is confined to a professionally-inculcated one-sentence answer, and thanks to a fluoride-tight media you have little concern what its connection to the Norwegian chemical industry could possibly be.

Rest assured, when the shit hits the fan, @turizemptuj will be there to help you emphasise the upside of fluoridated urinals and destroy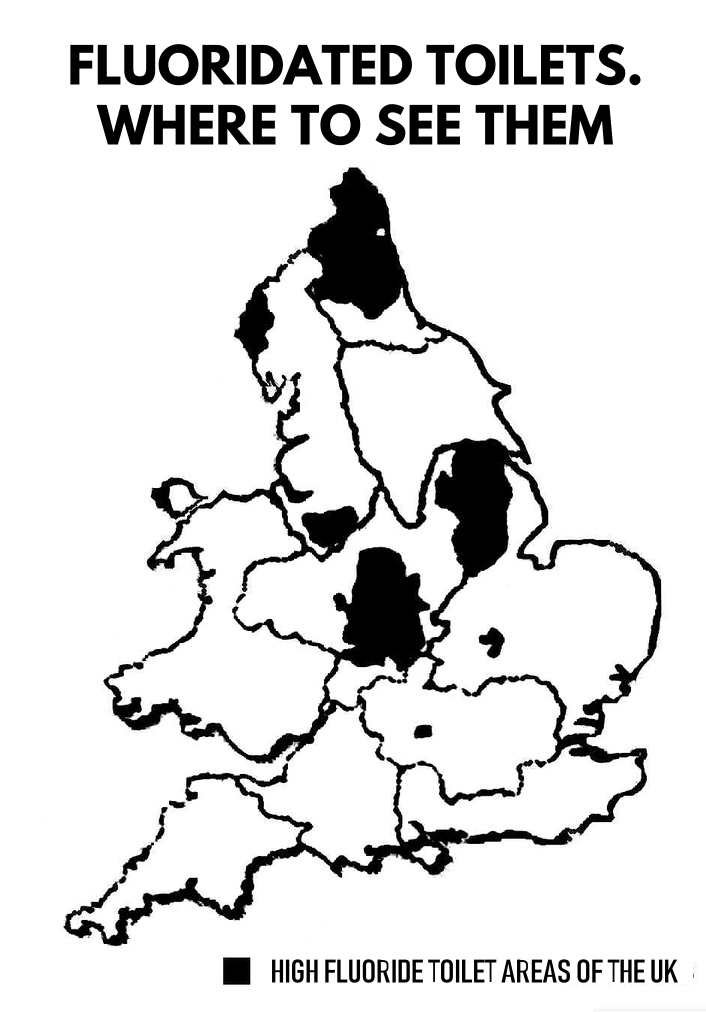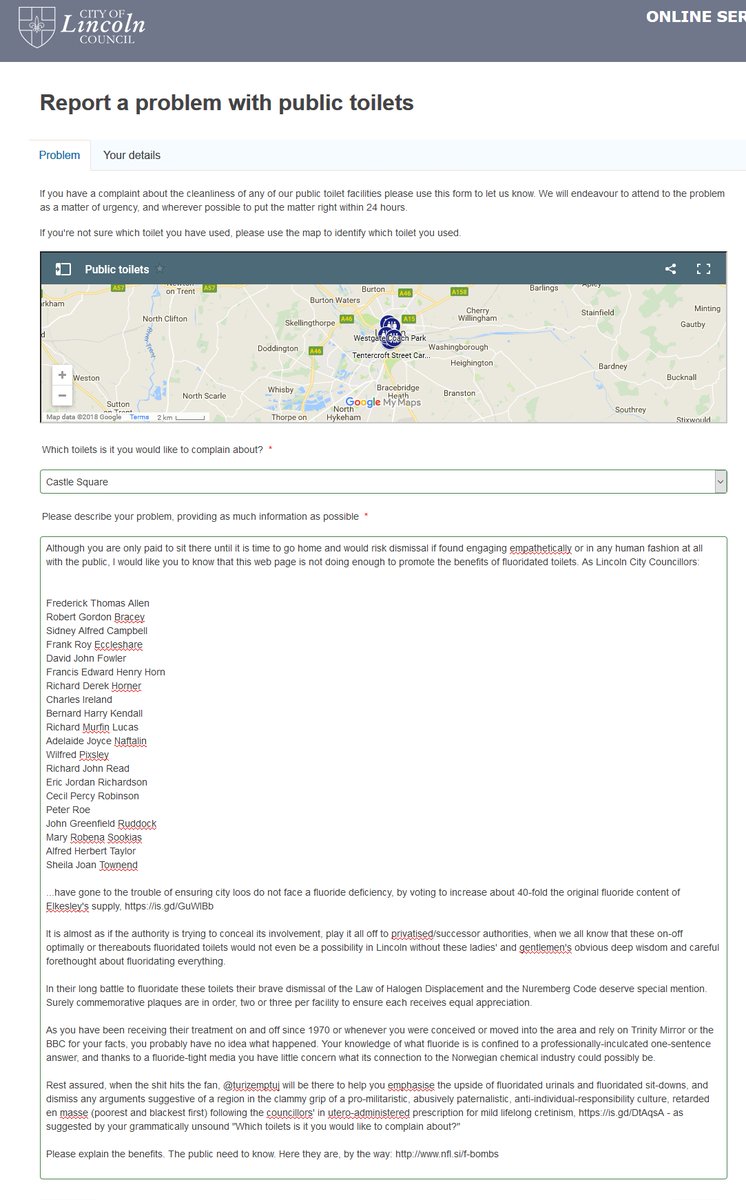 any arguments suggestive of a region in the clammy grip of a pro-militaristic, abusively paternalistic, anti-individual-responsibility culture, retarded en masse (poorest and blackest first) following the councillors' in utero-administered prescription for subclinical lifelong cretinism - as suggested by your grammatically unsound "Which toilets is it you would like to complain about?"

The public need to understand the benefits.